DRY CARBON & URUSHI
Dry Carbon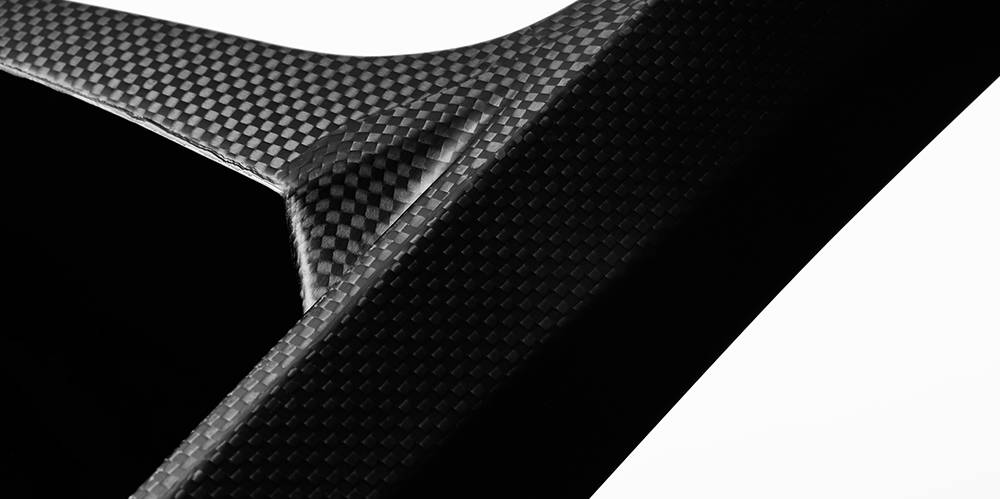 Carbon which is a reaching point of textiles
as an outcome of state-of-the-art technology.
"Strength" and "Lightness." It is characterized by solving two conflicting problems at the same time in the field of manufacturing. fiber is a textile obtained by burning acrylic fiber to carbonize it at a high temperature of about 1,000°C. CFRP (Carbon Fiber Reinforced Plastic) is a composite material made by resinating a fabric, carbon cloth, which is made by weaving this carbon fiber to conduct molding and processing, and hardening it.
This material, commonly called carbon, boasts of a miraculous strength with the strength about 10 times and the elastic modulus about 7 times those of iron, while having a specific weight of 1.5 to 1.8, much lighter than that of iron or aluminum. In addition, it is a material indispensable in a wide range of fields because it has the features of without wearing or rusting, and being stable even under high temperatures.
RDS
"SHIKI" is the highest grade dry carbon product molded by an autoclave using a high technology of RDS Co., Ltd.
RDS Co., Ltd., which has been engaged in the development of a number of CFRP products by autoclave molding, such as two/four wheels race car parts, bicycles and solar cars, medical and welfare equipment, and state-of-the-art robot, has consistently undertaken from molding to processing.
---
Urushi
Urushi which is a traditional technique
developed rooted in the lives of Japanese.
it is a representative craft of Japan. Urushi-Combs seeming to be 6000 years old have been excavated, and it is believed that the utilization of Urushi had begun in the Jomon period in Japan.
Among them, "Hidehira-nuri" is thought to have been originated from a gorgeous Mitsuwan made by plentifully using the local specialty Urushi and gold by the craftsmen invited by Fujiwara no Hidehira, the third family head of the Oshu Fujiwara clan, who was prosperous in Hiraizumi in the late Heian era. Its technique and formality were brought up by successive craftsmen by overcoming history transition and rise and fall.
Genjigumo with rhombic gold leaves pasted and a unique pattern wishing for prosperity of descendants and good harvest are traditional designs and its colors are based on black, vermilion and gold.
Hidehira-nuri craftsman,
Yuya Sasaki
"SHIKI" was lacquered by Mr. Yuya Sasaki, the fourth generation of Hidehira-nuri Urushiware special store, "Ootiya" inheriting the technique of Urushiware related to the Oshu Fujiwara clan.
Urushiware of "Ootiya" is a high-class product used as a tribute to the Imperial Household Agency and as a gift to the G7 leaders.
In order to fuse it with a state-of-the-art material, carbon, they created a beautiful surface with gloss for which Japanese traditional techniques were gathered by repeating the processes five times for applying paint for compression bonding at first, painting Urushi, drying, polishing and further applying Urushi on the top.